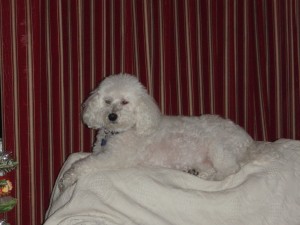 We have all heard stories of wealthy pet owners leaving their fortunes to their pets. Although we think of our pets as family, the legal system designates them as "property", which you can't leave property to.  When you meet with your lawyer to plan your will, remember to include your furry companions.  Today there are over a million wills in the United States that include pets. The following are some examples of pets whose  rich owners have or will provide for them for their lifetimes:
* A chihuahua named Conchita, who belonged to a Miami heiress named Gail Posner was left a mansion and a 3 million dollar trust fund.  Her son did contest the will and said his mother was drugged by her staff who wanted the 8.3 million dollar mansion for themselves.
* Gunther, a German Shephard inherited 80 million dollars from his Austrian blue-blood owner, Karlotta Liebstein.  When Gunther passed on, the rest of the estate went to one of his puppies.
* Oprah Winfrey's 5 dogs, some of whom were rescued from shelters, have had 30 million dollars set aside for their care after her death.
* Betty White's will includes 5 million dollars for her Golden Retriever Pontiac. Betty is well-known as an animal-rights activist, in addition to her fame as an actress.
* A former alley cat was rescued by the late Maria Assunta of Rome and received 13 million dollars, the entire estate of the heiress.
* Ben Rhea left nothing to his relatives, but he made sure his  beloved cat Blackie was taken care of .  Blackie  inherited 25 million dollars after Ben's death. This  story is featured in the Guinness Book of World Records.
* The widow of Star Trek creator Gene Roddenberry set aside her mansion and a 4 million dollar trust fund for her dogs. She also left 1 million dollars to her pets' caretaker.
* The well-known hotel heiress, Leona Helmsley, gave her Maltese terrier Trouble, 12 million dollars from her estate. She wanted the public to be aware that our pets need to be planned for.  Trouble will be buried in the Helmsley mausoleum with Leona and her husband.
You do not need to be a millionaire to give your pets a lifetime of contentment.  Check with your state as there are 39 states that have statutes outlining pet trusts.  It is best to designate a caregiver who will provide for your pet after you are gone. This should be stated in your will. If you can't find a caregiver, look at breed-specific or general no-kill shelters or rescue organizations. Be sure your chosen caregiver has a diary of information about your pet's likes and dislikes, including favorite treats or habits. This information is also very important if your pet will go to a rescue organization or shelter. If your pet dies before you, the money you planned to leave your pet stays with your estate.
Thinking of your pet and providing them with care after you are gone is one of the best gifts you can give them. After all, even if the legal system thinks of pets as "property", they are members of our family and deserve a lifetime of love.