Monthly Archives:
April 2014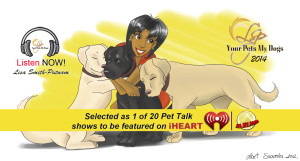 Hi Tails Untold Fans,
We are very excited to share this interview about Susan Lyman, Tails Untold Personalized Pet Books creator.
Lisa Smith-Putnam interviewed Susan for the Lisa Smith-Putnam radio show called "Your Pets My Dogs".  It is also featured on iHeart Radio!  Come and enjoy!  And as Lisa says:  Laugh, Share, Play!
Update:  Today I found out the interview is also on Pet Life Radio…Woof Woof! Here is the link and please feel free to share!
YOUR PETS MY DOGS *Lisa Smith-Putnam*
laughshareplay.podbean.com
Your Pets My Dogs! A Pet radio show that rocks…WOOF to…