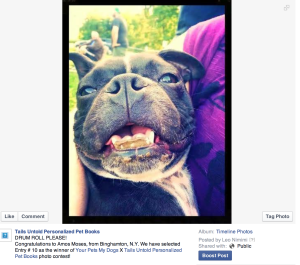 Tails Untold Personalized Pet books and Your Pets My Dogs Facebook Photo Contest Winner is Amos Moses from Binghamton, NY.  We had lots of wonderful entries but Amos, Entry #10 won.  He is the lucky winner of his very own Tails Untold Personalized Pet Book, Amos Moses' New York City Adventure.  We can't wait to create his book.
Check out our Facebook page https://www.facebook.com/TailsUntoldBooks as we have lots of fun gift, treat, and great functional items for your pets.  Also check out Lisa Smith-Putnam's Facebook page https://www.facebook.com/YourPetsMyDogs and listen to her radio show, too.
Also, a reminder, if you are looking for a unique and special gift for a family member or friend, please check out www.tailsuntold.com.  We create one of a kind, personalized to "your pet", beautifully illustrated keepsake books!  Your pet is the narrator and the star.  Each illustrated page has your pets photo and personal information strategically inserted to create your very own one of a kind, special personalized book!  Order now to be sure and receive your book for the holidays or purchase a gift certificate.
Happy Fall!