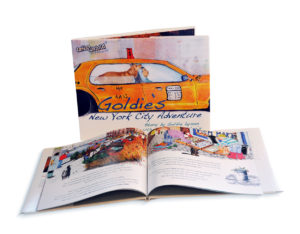 DAWN:  Another wonderful testimonial from a Tails Untold® Personalized Pet Book Customer.
"They [brother and sister-in-law] are THRILLED! My brother's feedback was that they were thrilled with Taffy's favorite toys being included and how amazingly well you did the pics of Taffy into the story….which you chose and how well you did it. Amazing, thank you! Cheers!"
KEITH:  We are so excited to receive this wonderful testimonial from another happy Tails Untold® Personalized Pet Book Purchaser.   Trudie's Book, as all of our books, are always fun to create.  We become friends with the Pet Parent(s) and get to know their petkid(s) in a fun and warm way.  We just had to share.
"Today, I received the book I had made for my fiancée, Amanda and Trudie The French Bulldog. Trudie and I had to wait for 'Mamma' to go back to work to look at it and we are thrilled with it!
 
The time and effort Susan took in getting a confessed technophobe like me to source my photos from those I have of Trudie and even one of Amanda and I was astonishing. So patient, helpful and understanding, I was overwhelmed by the care taken and therefore delighted but not surprised by the high quality product that came out of it.
 
The book is wonderful and even the thought of the most special person in my life seeing it makes me smile, such is the way the information gathered has been woven into the book's content.
 Thank you so much for the hard work. It is a superb product we will enjoy a great deal and one you should be proud of.
 
Love and thanks from Keith, Amanda and Trudie The Dog"
PS:  If you are interested in a Tails Untold® Personalized Pet Book as a gift for the Holidays, please order now to be sure it arrives in time!