Hello All you Pet Lovers,
I am pleased to share this information from Canine Camp Getaway's Veterinarians.  This is excellent advice and something I think all pet owners should review every summer, so please pass along.
1) Be cautious walking your dogs on hot pavement or cement — their pads are tough, but can burn just like your skin.
2) A summer haircut CAN help keep your pets cooler, but a too-short cut can make them even more vulnerable to the effects of sun and heat.
3) This seems like a no-brainer, but every year dogs die in hot cars. There is no "okay" time frame to leave a dog in a car in the summer.
4) Summer pests don't only trouble humans — be sure your dog is protected from both internal and external parasites.
5) Drive carefully! More outdoor activities and open doors/windows can mean more dogs outside, on-leash and off, so slow down — and don't get distracted by cell phones, texts or changing radio stations. Be sure to regularly inspect your yard for any holes or breaks in perimeter security.
6) Practice water safety — not all dogs can swim, especially in ocean water with waves and currents.
7) Be cautious of which pesticides, fertilizers, and mulches you or your landscaper are using; not all are pet-safe.
8) Wildlife is out and about — be sure your dog is current on vaccinations such as rabies and leptospirosis, if appropriate.
9) We see far more dog fights in the summer months than others — when socializing your dog at the park, be alert to his or her activities. Avoid distractions such as talking on your cell phone which may impede your response time.
10) Access to fresh, cold water is even more important now than other times of year.
11) BBQs can be great ways to visit with friends in the summer months but can be dangerous for your dog. Alcohol, hot BBQ drippings and coals, skewers, and even ingesting certain (or too much) food can all cause your pet harm. Be mindful of the grill and remind guests to please not feed your pup!
12) Buckle up! Remember to restrain your pet in the car. This will keep them safe if the event of an accident, and also keep them from jumping from an open window.
If you are thinking about a summer vacation to include your special furry family member, please chec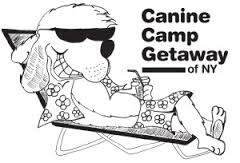 k out   Canine Camp Getaway Vacation .  It is a wonderful place to go and  located in the beautiful Lake George, NY area. Maybe all your friends with Tails Untold Personalized Pet Books http://www.tailsuntold.com will see you there.