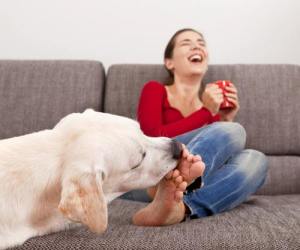 Most dogs are very perceptive at reading their owner's body language. They seem to know when their owners are happy, sad, distressed or anxious. This ability has allowed some dogs to be able to sense changes in their owner's body or behaviors prior to a seizure. They do this within seconds minutes or hours before the seizure occurs.
Dogs have their own ways of letting their owners know of an impending seizure. They may bark, become restless, paw at or lick their owner's hand. This alerts the person to seek a safe place to sit or lie down to prevent falls that might occur with the seizure.
No one is sure why or how a dog is able to recognize that a seizure is coming. Theorists believe that it may be a change in the person's behavior, body language or even an odor that the person emits prior to the seizure. This ability to recognize an impending seizure is not something that is trained and is a common phenomenon in many dogs. It does not seem to be related to a dog's breed, age or whether the dog is a male or a female. Seizure alert dogs are ones that are very sensitive to a humans behavior or emotions. When a person comes out of a seizure, they tend to be disoriented or confused. Having their dog by their side can help re-orient them to their environment. Their dog's presence is also a comfort. It is known that dogs can help to eliminate daily stressors in our lives. People with seizure disorders can sometimes increase their number of seizures when under stress. Having a loving canine companion may help to prevent this increase.
So seizure alert dogs are important to helping keep their owners safe. They help eliminate their owners fears of seizures and make their daily lives much easier.