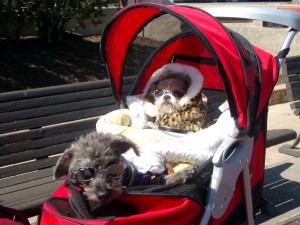 Does your dog bark happily when you take out his leash? Does your cat meow as you jangle your car keys and say ,"lets go for a ride?" Have you ever wished your pet could accompany you on your daily bike ride?  Bicycle riders can now take their pets for a ride when they pedal their bikes about town, to the park or just in the neighborhood. There are a variety of pet carriers from baskets to bicycle trailers that allow your pet to ride with you.
When deciding upon a carrier, it is important to check the weight and size limits before you purchase one. Basket carriers are usually mounted on bicycle handlebars or crossbars, but some are rear-mounted. The front-mounted basket is generally for dogs (or cats) that weigh between 13 to 15 pounds or less. Those on the rear-mount can fit dogs or cats to approximately 24 pounds (though I haven't heard of too many 24 pound cats!) The carriers come in many styles from the traditional wicker basket to more sporty, nylon models and colors. They are open at the top or have wire basket covers over them. On the open ones, there are tether straps that connect to the pet's harness to keep them safe in case the occasional squirrel crosses one's path.
Bike trailers are becoming very popular for larger pets. They come with a hitch that fits most bikes. There are two wheels on either side that keep them quite steady. They have closed and open tops and mesh windows so your pet can admire the view. They come in various sizes and can accommodate pets up to 110 pounds. Most fold up for easy storage. They are usually padded which is good for bumpier rides and have washable liners.  There are pockets to store essentials like water bottles and waste bags.
Some safety tips to keep in mind are to only use these carriers as they were intended. There are those for bicycles only as well as those for car and walking carrier purposes. When using a bicycle carrier, be sure it is mounted securely. Never leave your pet in the carrier unattended. Check to see that the basket type carrier's straps do not interfere with your brakes or other levers. The ideal conditions for a ride are on a good weather days and in the daylight.  However, in case it starts to cloud over or if evening comes too soon, reflective strips are essential for good visibility.  Attaching a flag to the back of a pet trailer is also a good idea for all weather conditions.
Take your pet along and enjoy the ride!