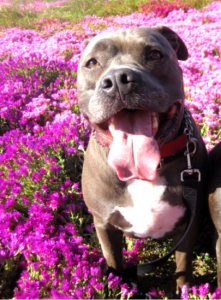 Drum roll please!
We are so excited to announce our winners of Tails Untold Personalized Pet Book's "Happy Spring Facebook Photo Contest".
The first place winner is Rocky, from San Diego, California.  He is adorable, smiling among the lovely pink and purple flowers.
The second place winner is Calypso, from New York City.  This cute black pug is sitting among the gorgeous pink tulip.
Rocky and Calypso are now the proud owners of a NICIA Pet Couture Collar.
CONGRATULATIONS ROCKY & CALYPSO!
Everypawdy, please come and visit our Facebook Page and join in on our monthly contests.  We offer great prizes and love seeing all your pictures.
To visit our Facebook page, please copy and past this url onto your browser:  http://on.fb.me/KhzoGF  or visit our website www.tailsuntold.com and you can link there.