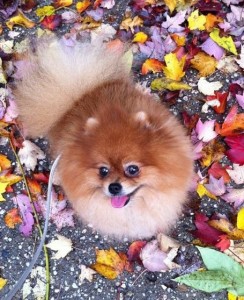 Here is a blog that Jorge  Bendersky,Dog Groomer,  wrote about the wonderful and healthy benefits of dog ownership!  I thought I would share it with you.   Happy Valentine's Day Everyone!
"This year, as Valentine's Day nears, I have been thinking a lot about relationships, well, the relationship between a dog and his person that is.  (What can I say, I'm not a romantic and my life has literally gone to the dogs!)  My own Pomeranian, Tito, for example, is not just my dog, he lets me watch trashy tv, and wakes up to get coffee with me in the morning.  Tito listens when I just feel like talking – we all know texting can be exhausting! – and he is always happy to see me after a long day of work.
It's not just me though.  In my line of work, grooming the dogs of New York's elite, I see that whether you live uptown or downtown, everybody gets stressed.  But when a little pup comes in the room, even a fashion diva or a big shot lawyer can't help but smile.  What if you don't have a career in high fashion and carry your dog around in Gucci? Well, my experience says the positive effects of a dog are universal.
This is not just my opinion.  Many studies, by doctors and psychologists, prove that owning a dog can actually help make you a happier and healthier person.  Petting your dog calms you down and reduces your anxiety, which helps lower blood pressure and reduces heart related diseases.  Having a dog to come home to, play with, and take walks with can help fight off depression or loneliness and will lead to a more active lifestyle.  Being out with your dog could even help you get a date!
When it comes down to it, having Tito around might actually be making me a better person.  Don't tell Tito though, we don't need his ego getting any bigger!"  By Jorge Bendersky  Visit his website at http://www.planetjorge.com/