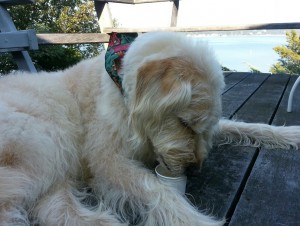 Most dogs will quickly lick a cone to the bone if filled with a scoop of vanilla ice cream. There are commercially available frozen dog ice cream treats.  But many per owners are put off by the long list of ingredients that don't sound like food. And, they are not cheap!
If you want to go "natural", try making your own homemade frozen treats.  Here are some recipe ideas you can use;
-32oz. plain yoghurt
-a mashed banana or other fruit (no grapes please)
-2 tbsp. peanut butter
-2 tbsp. honey
Mix these in a blender and freeze in silicone cupcake trays, dixie cups, or in cupcake liners in a regular muffin pan. You can also substitute fat free vanilla ice cream for the honey.
For a fun topping to your dog treat, freeze some shredded carrots, cut green beans and/or cranberries.  Your dog will lap the treats up with his homemade ice cream. And you will know you are providing him with a healthy, additive free frozen treat.
Stay cool!