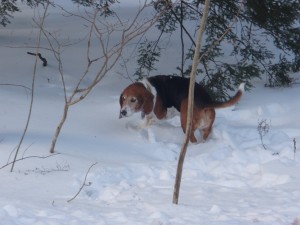 In these frosty days of winter, we need to keep our pets in mind when venturing out in the cold. Contrary to popular belief, having fur does not prevent a pet from hypothermia or frostbite. Injury or death of tissue can happen from exposure to freezing or sub-freezing temperatures. Frostbite affects the tips of the ears, tail and toes. Dogs with longer ears like Bassett Hounds are at greater risk as well as small dogs like Daschunds. Cats will usually find a way to keep warm such as under the hood of a car, but it is best to keep them inside. For those strays that might end up under the hood, always rap on the hood a few times before you start your engine.
When the pet's body is exposed to extreme cold, the blood vessals constrict to try to keep the body's core warm. The core of the body includes the heart, lungs, liver and kidneys. The result is that the tissues of the extremities have less blood supply and can freeze and die. Certain medications and medical conditions such as heart disease and diabetes can cause increased susceptibility.
What you need to look for is tissue that appears pale or gray and feels hard and cold. As the tissue thaws, it will turn red and become very painful. If the frostbite is severe, the tissue may blister, turn black and slough off. If you suspect frostbite, do not rub the area or apply hot water, a heating pad or hairdryer. Wrap the pet in warm dry towels and blankets. You can use warm, not hot water on the affected area. The water should be about 104 degrees or just warm enough that you can keep your hand submerged in it. Apply the water with towels or soak the specific area in warm water. Dry thoroughly and carefully so as not to disturb the tissue. Take your pet to the vet for an evaluation of the area and to check for hypothermia. The vet will often give pain relief medication and antibiotics for damaged tissue to prevent infection. The vet may do blood or urine tests to look for the possibility of internal organ damage.
To be safe, keep outdoor walks to a minimum; just enough time for your pet to do it's business. Sweaters and even booties are recommended in extreme temperatures. Always keep your pet warm and dry after being outside. It is up to us to help prevent frostbite from happening. Remember, Spring will be here before you know it and you can go back to those nice, leisurely outdoor adventures!