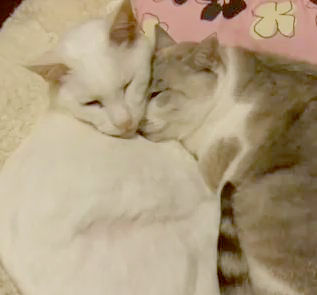 When we think of cats, we imagine soft fur, cuddly rubs and gentle purring sounds. However many cats do not seek out this affection and remain aloof. Some of this is personality, upbringing or breed. In order to optimize the possibility of obtaining that loving interaction from our feline pets, there are several things cat owners can do.
First be sure your cat can depend on you to be her provider of nutritious food, fresh water, a clean litter box and fun toys to engage her. A happy cat will be more open to your attention and affection.
Next you need to spend quality time with your cat. Giving her attention, such as talking to her in a loving way and stroking her fur may lead to her coming to you more often for it. If you do this while you are preparing her food, she will associate this with the positive experience of being fed and cared for. Also, when sharing affection at other times, give your pet a treat. Again this will help your cat associate affectionate behavior with a rewarding experience.
Play with your cat often. Cats prefer to chase than be chased. Dangle a string behind you as you walk so your cat will follow you. Play laser tag with a pointer, but be sure not to shine it in your pet's eyes. Bat a catnip filled ball back and forth. A little catnip can often help a reluctant cat become more engaged and affectionate towards you.
You can purchase a cat bed or have a special cushion or blanket for your cat. "Mark" the area with your scent by rubbing the bedding on yourself. Your pet will pair your scent with the comfy feeling she gets when she cozies up in her special resting area.
Cats enjoy gentle petting around their cheeks, under their chin, in front of and behind their ears and on their backs. You can often tell if this is giving your cat pleasure when she curls the end of her tail. A straight tail or ears back usually means the cat is not enjoying what you are doing to her. Always put yourself at the cat's level. Bring your hand in from the side of your cat and work your way up so as not to startle her.
Although your cat may still spend much of her day off to herself, you will be rewarded with more affection and purrs if you keep these simple strategies in mind.