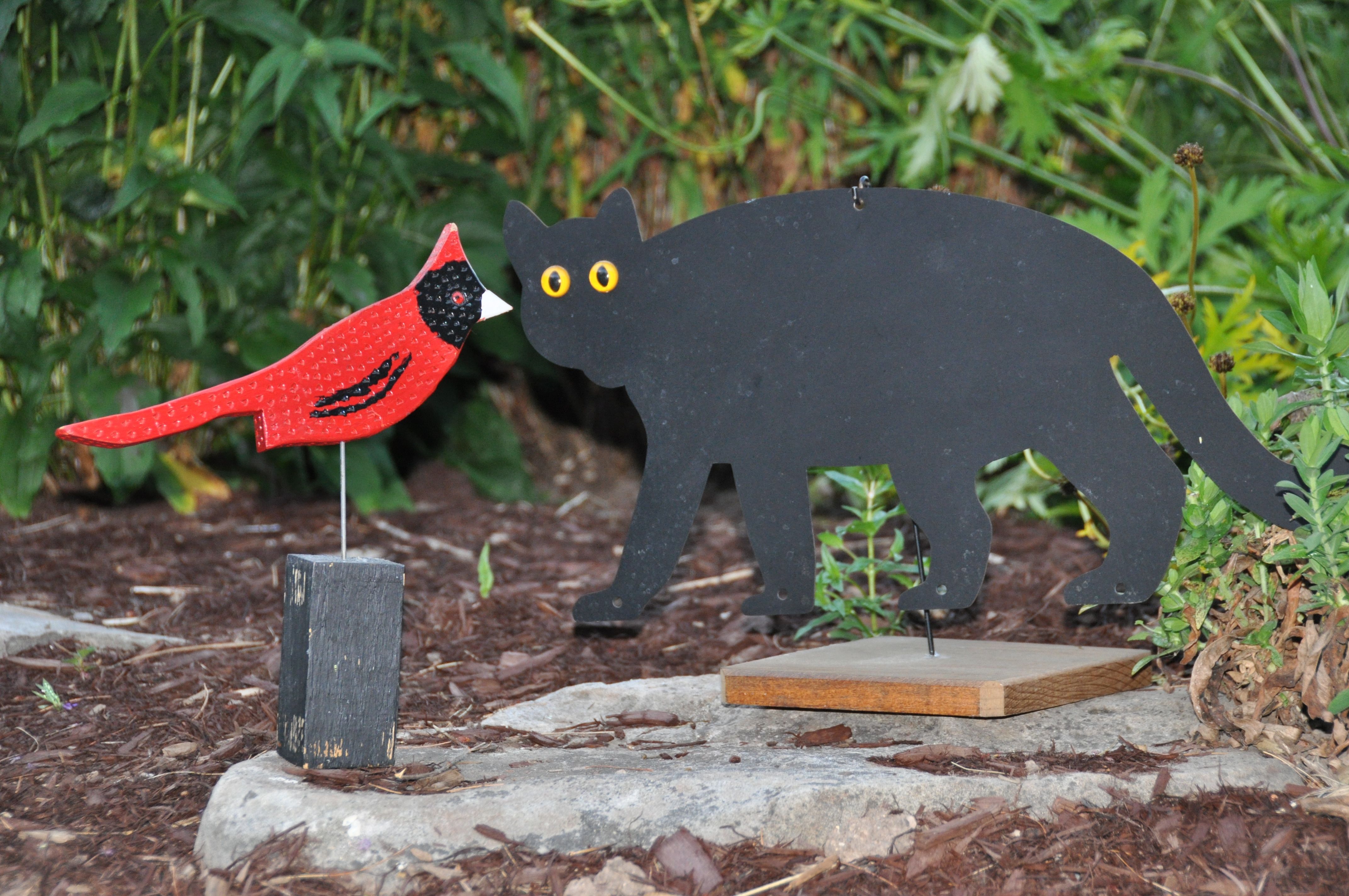 When we think of cats and birds living together, what comes to mind is Tweety bird being stalked by Sylvester.  Cats are instinctively natural predators.  In the wild, quick birds can just fly away from them.  In your home, the bird does not have this advantage and can run out of steam trying to flee the cat. Here are some ideas for keeping both cats and birds as pets.
-Let your cat know that the bird is not going to steal your affection. Jealousy can cause a cat to become aloof from you or stalk that cute feathered friend behind the bars. Give your cat lots of attention to let your cat know this new pet is just one more member of the family.
-Do not place the bird cage in an area that your cat can knock over and free the frightened bird. A cage that stands on the floor can work if it is sturdy and not placed where it can be bumped. Be sure the cage bars are close together and that the door is completely locking. Some bird owners have their bird's wings clipped to tame them and keep them from flying away. That can put Tweety in a precarious situation if the cage is not secure.
-If your cat insists on stalking or jumping at the cage, use a squirt bottle of water to let it know this behavior is unacceptable. Unlike Tweety who can give the taunting right back, your bird can become over-stressed with the constant taunting.  This can even lead to death, so it is important to inhibit this behavior with your cat.
-Always supervise when letting your bird out to play.  Larger birds, such as exotic parrots may intimidate your cat. However, it is better to be safe than sorry. Having a room that belongs to your bird for his flying adventures is a way to keep him away from the cat.
-If a cat were to scratch or bite at a bird, they can transfer a bacteria to the bird that causes osteoarthritis.  There is an 8 to 12 hour window before this damage occurs. Your vet will need to treat your bird with a tetracycline derivative.
-The best type of birds to have co-habitate with your cat do not need a lot of out of cage interaction. Birds bought in pairs and using a large sturdy cage will help to discourage your cat from toying with them.
Once your cat realizes that your bird is just one more member of the family, they will likely leave it alone. (unlike Tweety and Sylvester!) Enjoy the purrs and chirps!