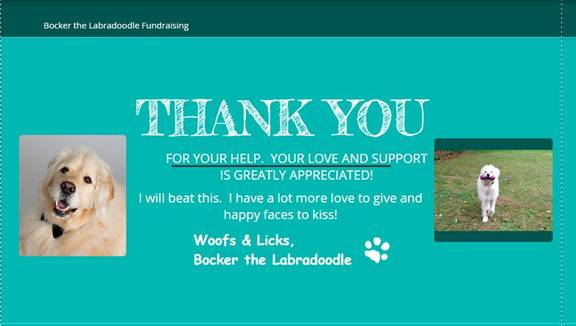 The famous and very special Bocker the Labradoodle has discovered he has Lymphoma. Not only is he quite famous having participated in many movies, photo shoots,interviews and more, he is a therapy dog and is one of the most caring, giving and special dogs we have ever known.  Bocker was one of Tails Untold Personalized Pet Books first customers.  We loved creating his book, but more, we loved getting to know him and his mom, too!  We send prayers he can beat this terrible disease!  If you are able to help Bocker, please see the Fundraising page information, below.
Thank you all and Best Holiday wishes!
Susan and your friends with Tails Untold Personalized Pet Books www.tailsuntold.com
Bocker Fights Lymphoma
From Bocker's Mom:
Bocker who has done so much for so many—from differently abled children and adults to raising money for good causes—now needs YOUR help.  We just learned that Bocker has lymphoma and, without treatment, has just a few months to live.  New treatments, which are costly, are giving pets more quality time here on earth. So, ANIMAL lovers, if you can find it in your heart, we are asking that each person donate whatever you can to help Bocker.  He has so many more kisses to give and lives to touch and smiles to bring.
If Bocker has ever touched your life or the life of anyone you know,  please help and Donate.  Bocker needs to continue his mission of making others happy!
Bocker says "I Will Beat This!"
Fundraising page:  Fundraising For Bocker  or you can donate through Pay Pal to bocker@bocker.tv.
Big Woofs & Licks from Bocker!  Thanks to everyone for your love and support.  All my friends are definitely part of Team Bocker! 
http://www.bocker.tv
http://www.facebook.com/bocker (Fan Page)
http://www.facebook.com/marie.bocker (Friend Page)
@bocker on Twitter